Tantuvi's new "Travertine" collection of rugs.
Photo: Charlotte Taylor & Victor Roussell.
Meet Tantuvi.
By Hello Human.
Here at
The Humanist
, we're jazzed about introducing you to Tantuvi, the New York-based rug and textile studio that produces heirloom pieces made by seventh generation dhurrie weavers of North India. Tantuvi is a sustainable design business offering the global marketplace great design made possible through community engagement and economic empowerment.
We support Tantuvi for its sustainable, fair and equitable working environment where weavers are celebrated and treated with respect for their essential role in the business.
We also love Tantuvi for its ultra chic, cool-kid aesthetics, made in traditional techniques of hand-spun, dyed, and woven cottons and silks of the Eastern Ghats and Rajasthan. Check out
Circles
and
Rose Malachite
as witness. Founder Arati Rao is also a radical designer; she started this company, after years in corporate fashion design, to shift the paradigm of collecting design and elevate the value of Indian artisans in the consumer consciousness. Central to the ethos of Tantuvi is also to connect and empower a community wherein Rao has roots.
Recently we linked up to announce the launch of "Travertine," a new collection of rugs made from cotton and recycled silk inspired by Rao's travels in collaboration with her partner, the artist Adam Sipe. The color palettes take from the desert landscape and the dramatic beauty of alpine mountains. Modern luxury meets craftsmanship of hand-woven tradition.
Arati Rao, Tantuvi's Founder & Creative Director.
Photo: Ori Harpaz.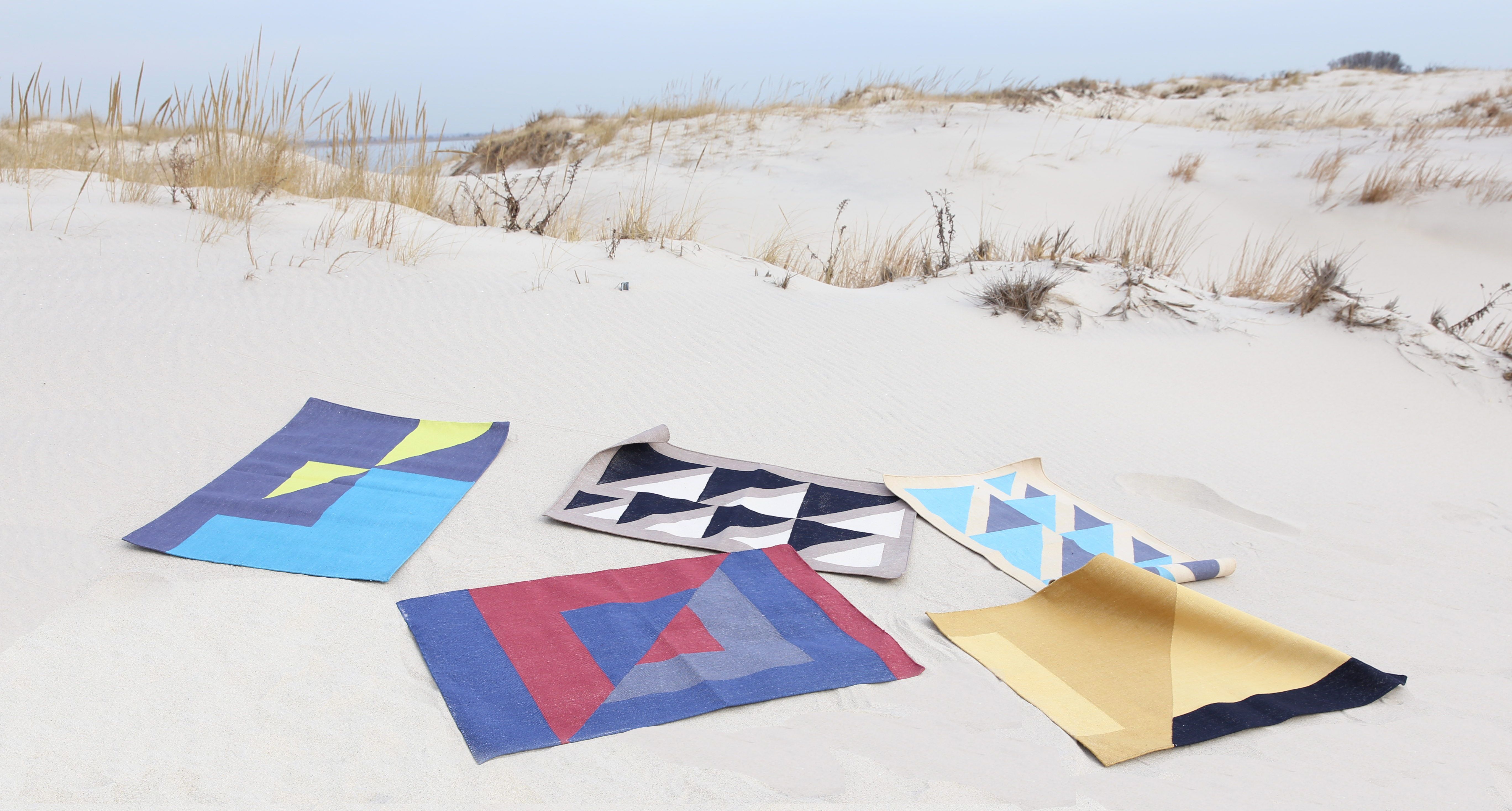 An assortment of Tantuvi rugs.
Photo: Courtesy of Tantuvi.
Name
Tantuvi

Company Founded
2010-2012.
It's tricky to specify exactly.
In 2010, I spent the year in India working towards what would eventually become Tantuvi.
Location
New York
Website
Company Profile

Tantuvi, reimagining what hand-made in India can be, while creating contemporary heirlooms for your space. Our work is produced using India's vibrant heritage techniques. We design our rugs with an artistic and thoughtful approach to build meaningful relationships.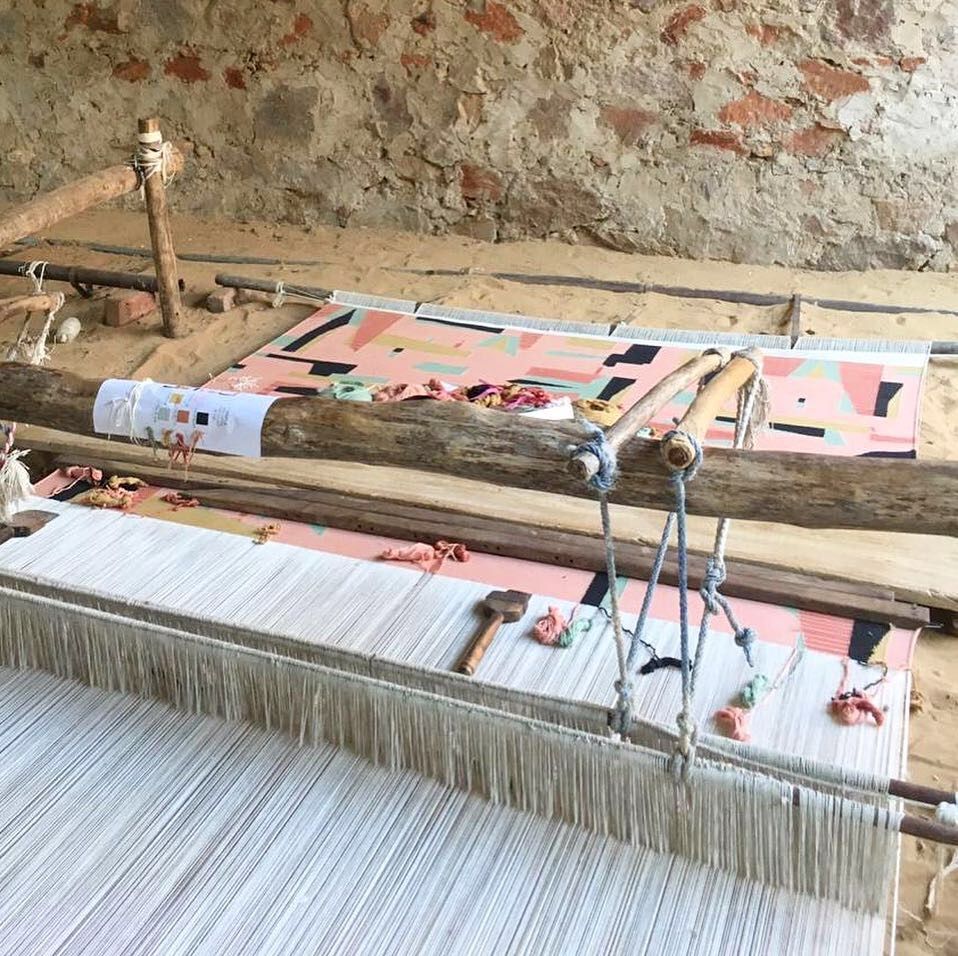 Tantuvi's Fragments rug on the Panja loom. Photo: Courtesy of Tantuvi.
What makes you get up and design every morning?
I wish I was designing every morning! Sadly, it's weekly, if that. My day-to-day at the moment is working on special projects and working with our production team in India. There is a lot going on at the moment, so we are planning for future changes that impact our artisans that will allow us to better serve that community.

Is it the problem or the solution that fuels your design practice?
I think both. It depends on what I am working on. You can approach the project or design process either way.
What's your spirit material?
Marble and raw silk

A design/art/architecture project that you always return to for inspiration?
Jantar Mantar in Jaipur that was built between 1724 and 1730. It never gets old!

Three words that describe your practice
Considered, Patient, Playful

What does the future of design look like to you?
I think there has already been a bit of a shift, but myself and the design community at large will have to be more considerate of materials and the impact of our work within the communities we produce in. I'm also thinking about what effects our ideas and work will have on the environment and people as well.

How do you use design for good?
All our rugs and textiles are hand-woven. Our process from procurement to weaving is hand-done. On top of that, there also are no wasted materials in this process. In addition to how Tantuvi operates, we also have a village fund to further support community projects within the weaving villages we work in that produce our rugs.
Inside the office of the Master Dyer who Tantuvi works with.
Photo: Courtesy of Tantuvi.
Ladies & Gentlemn Studio's "Myrna Wall Mobile" mounted light
Photo: Robin Stein.
Welcome Ladies & Gentlemen Studio.

By Hello Human.


Here at The Humanist, we've been eager to introduce the ever-inventive Ladies & Gentlemen Studio as they unveil their new "Lightscape Candle Holder," a project six years in the making, emerging from the studio's study of light. Designers/co-founders Jean Lee and Dylan Davis considered forms of natural and artificial light, and how they play with their surroundings to create shadow, lightness and darkness. An inquiry of light, a result of visual poetry.

This limited-edition series strips back the fundamental expectations of form leaving only one source of light: a single flame. Sacred and eternal, and with an eye to the future. Ultimately, this study has shaped the studio's practice, impacting their process and aesthetic in lighting, allowing them to create work with more depth and meaning.

Chances are you've come across Ladies & Gentlemen's holistic design practice driven by curiosity and wonderment. As a design studio, they embrace "complementary opposites like warm minimalism, playful austerity and simple sophistication." They call Design Within Reach, Herman Miller, Roll & Hill, Heath Ceramics, Shinola, Rockwell Group all clients. Similarly, their work has been published in global publications from Architectural Digest, T Magazine, Wall Street Journal, World of Interiors, Elle Decor, Wallpaper* and many more. The studio's motto is "to always stay curious and never stop exploring."

Dylan Davis and Jean Lee, Ladies & Gentlemen Studio's co-founders at work.
Photo: Courtesy of Ladies & Gentlemen Studio.
Lightscape Candle Holder.
Photo: Courtesy of Ladies & Gentlemen Studio.
Name
Ladies & Gentlemen Studio

Company Founded
2010
Location
Red Hook, Brooklyn, NY
Website
Company Profile

L&G Studio's explorative spirit is a blend of resourceful curiosity with the desire to celebrate material & functionality. Our open, multi-disciplinary approach to design yields an ever-evolving set of ideas and experiments collected from everyday discoveries, explorations, and surroundings.

Ladies & Gentlemen Studio's Shape Up 3 Piece Chandelier for Roll & Hill. Photo: Courtesy of Ladies & Gentlemen Studio.
What makes you get up and design every morning?
We originally started our studio because we wanted to practice design with a greater integration with our daily lives. This creates a continuity between our daily observations, rituals, and passions and the decisions we make as designers. We believe this can help facilitate a design approach that's honest, empathic and HUMAN (to tie it all in here)! This helps us in our mission to create work that serves as a meaningful, positive intermediary between people's intentions and actions.

Is it the problem or the solution that fuels your design practice?
Our design practice is fueled by a desire to be purposeful and intentional. In this regard, we avoid looking at the world in terms of problems and solutions because it can lead one down a very binary path. Life is circular and the design process should reflect this. Afterall, there are so many moments where designers created a "solution" that actually created far more problems than it sought to solve. On the other hand, there are so many examples where open-ended design projects were allowed to evolve and improve over time—beyond the designer's wildest dreams. If designers endeavor to be rigorous explorers and create with purpose and intention from a point of curiosity, we can all collectively create towards a better future with open hearts and minds. This approach is less about problem-solution and more about working from a point of care.

What's your spirit material?
Light. We work with a lot of materials as part of our mission to always be curious, however, "light" as a material, concept, and experience is a recurring theme in our work. That can range from a literal lamp we design, where light is the critical material that interplays with the space, materials, and forms we choose, but it also extends to how we design spaces and experiences. Our work for "Furnishing Utopia," which following a workshop at Hancock Shaker Village debuted at Sight Unseen Off-Site 2016, for instance, is intended to shed new light on the connection between contemporary times and history. While metaphorical, this form of "illumination" is part of our continual attraction towards light.

A design/art/architecture project that you always return to for inspiration?
The American Shakers are a continual source of inspiration for us because the objects they created were so well-integrated with their life intention. Everything they created was made with care, thought, and craft and done so with incredible simplicity, honesty, and grace. Their lives and work were deeply intertwined, and it therefore runs very deep, which makes them an ideal resource to return to again and again.

Three words that describe your practice
Elemental, intentional, and unexpected.

What does the future of design look like to you?
The future of the design industry and design practices as a whole must become more responsible and socially conscious in order to even have a reason to exist. Based on the current design industry, it simply isn't sustainable for designers to continue creating work that further feeds over-consumption or throw-away culture. To do that, designers need to really think beyond monetary gains, and through the material world as a way to create "wealth," and focus on more intrinsic values that can cultivate a new kind of richness that positively serves people, communities, and the environment.

How do you use design for good?
We believe designers should be facilitators, not dictators. Design's true purpose is to serve as an intermediary connecting people's intentions with their actions. When we begin any project, we center our approach from a point of active listening and observation. From there, we aim to contribute work that directs people towards greater engagement and participation in their environments. This means the best designs serve as a spark for others to be more present and thoughtful in their surroundings and actions, thereby adding to the design's impact themselves. With this framework, good intentions of the designer can be amplified by good intentions of others and this is where design can be a powerful agent of change. For much of the 20th and 21st century, designer's good intentions have been subverted for profit and oppression. When designers free themselves of that framework and engage more directly in who they serve, we can really help create a new reality on so many fronts.
Moire Mobile.
Photo: Courtesy of Ladies & Gentlemen Studio.
Pitch Perfect: Jenny Nguyen, Founder of Hello Human.
By Hello Human.
Introducing
Jenny Nguyen, Founder of Hello Human.

Location
New York City.
Find me on
Clients & Collaborators

Airbnb, Art for Amnesty, Bottega Veneta, Domino Magazine, Frame Publishers, Kengo Kuma, Ladies & Gentlemen Studio, Robert Indiana, Ryuichi Sakamoto's More Trees, teNeues, The Philip Johnson Glass House, Tantuvi, The Seaport District, Vogue Living, Yayoi Kusama and more.

In "Pitch Perfect" we tap Hello Human's publicity pros and the PR experts we admire to share 5 practical PR tips, useful insights and experiences they've learned on the job, so small businesses can start implementing them today.
One piece of advice for a small business starting out with their own PR.
Know exactly what differentiates you and the work you do from the others.

Whenever an editor receives a pitch email for, let's say a new chair, you can be pretty sure they're asking themselves "nice chair, but why is this interesting?"

You may be launching the most on-trend, aesthetically pleasing chair ever. But to really grab the attention of an editor, there must be more to it than good aesthetics and beautiful materials if you want your chair stand out from all the other furniture being pitched to editors.

Ask yourself why you designed the chair, how you imagined it being used, even why you started your business in the first place before you pitch it to an editor. Chances are, you'll land on what your differentiating factor is as you explore answers to these questions. When you spend time teasing out why your product or brand exists, by default you start to build a story behind it, and this is exactly what editors and writers are looking for.

What's your latest big PR win and how did you get there?
A few weeks ago I achieved an exciting media placement for Articolo Lighting, a client I've been working with on publicity with for years (and more recently through the stellar brand strategy and marketing agency Neil Hugh Office).

Believe it or not, this story in The Wall Street Journal was nine months in the making, making its publication that much sweeter to see live online and in print. From first introducing the the writer to the client, brainstorming interesting story angles together, consistently providing value, insight and resources throughout the pitching process plus follow through at the right times, the takeaway here is that it takes patience, persistence, collaboration and a friendly disposition to make stories like this one happen.
PATTERN BOLDNESS. Fizi Table Lamps, from $2,350 for Short, from $2,250 for Tall, Articolo in The Wall Street Journal,
Story by Elizabeth Anne Hartman: "Lamps That Can Transform a Room as Dramatically as New Paint" Photo: Sharyn Cairns

Best tech recommendation for making your PR job easier.
Instagram. It's free, and a game changer for PR pros. This is where I find out about stories and the people who write them. Instagram allows me to better understand what a writer's special interests are, get a sense of their style and what's culturally relevant to them, so that I can come to them with a pitch that they'd actually find compelling.

Instagram is also an excellent tool for building relationships from scratch. If I don't have an editor's contact details I'll find them on Instagram first, write to say hello, introduce myself and establish why I believe it would be a good idea to stay in touch (i.e what kinds of clients/stories I'll be pitching) and ask for their email address. This way, when a pitch does land in their inbox, it's not the first time they are seeing my name, which always has a better outcome.

Best advice for leveraging PR wins.
Congratulations, you went from pitched to published! But remember, the work does not end here. You've come out with a beautiful piece of press about your project or business but you've also come out of this with a new relationship with an editor or journalist who has supported you through their storytelling. Say thank you! Not only is this good manners, it's important to remember that PR is all about relationship building. Saying thank you on Instagram, by email or with a small gift only opens the door to more meaningful conversations later on. If you're feeling the good vibes, why not invite them out for lunch, coffee or a studio visit and take the opportunity to tell them more about projects you have coming out?
Best PR advice you received from a mentor.
Sophia Chang is not a mentor (although I wish she would be). Chang is known for her career throughout the '90s and 2000s managing talents including Ol' Dirty Bastard (O.D.B.), RZA, and GZA of the Wu-Tang Clan, Q-Tip and A Tribe Called Quest, and D'Angelo. When she recently released her audiobook "Baddest Bitch in the Room" I came across her on the Recode Media podcast where she imparted some simple advice that really stuck with me.

"Just network" she says.

"Because the worst thing that can happen when you introduce yourself to a stranger is you might feel a little humiliated, but there's no limit to how far the positive opportunities can go." Chang also advises to always introduce yourself with your first and last name because you give yourself a sense of authority, confidence and as a result become more memorable. "It gets easier the more you do it," she says.

This approach definitely worked for her! She arrived in New York from Vancouver as a French Literary grad, then had a chance encounter with Joey Ramone where she walked right up to him and said "You're Johnny Ramone right? I'm Sophia Chang" - it was actually Joey Ramone but they ended up becoming friends anyway, through him she eventually met Paul Simon whom she worked for before becoming friends with Wu-Tang Clan - the rest is history and a rather convincing anecdote of how far simply introducing yourself to someone can get you.
So if I ever bump into Sophia on the streets of NY, i'll say "Hey you're Sophia Chang right? I'm Jenny Nguyen, I read your book! I do PR and I had some ideas you might find interesting, can we chat sometime?"

Who knows where things could go from there?