A Monica Curiel painting and lamp made with plaster. Photo: Courtesy Monica Curiel.
Creative Humans: Say Hello to Monica Curiel.
By Claire Butwinick.

Hello Human welcomes Colorado-based sculpturist
Monica Curiel
into our community of Creative Humans. Known for her romantically draped wall-hanging sculptures, Monica's work explores the connection between materiality and movement while paying homage to her Mexican-American identity. Crafted with humble materials like plaster, house paint, and grouting tools, Monica's work harkens back to her childhood working alongside her immigrant laborer parents. Her use of practical materials elevates her family's story to high-end design spaces and amplifies her voice for women of color in the creative industry.
We were honored to include Monica's work in our 2022 Milan Design Week show, "
This is America
", an exhibition showcasing diverse creatives who represent American design today. From that exhibition, Monica's work appeared in Wallpaper*, Sight Unseen, Architectural Digest, The New York Times, and more.
With that, we're delighted to spotlight her again on The Humanist. Continue reading to find out what drives Monica and her practice.
Monica Curiel, founder of her eponymous art and design practice.
Photo: Mallorie McBride.
Monica Curiel's paintings mounted in a minimalist bedroom. Photo: Courtesy Monica Curiel.




Name
Monica Curiel
Company Founded
2021
Location
Denver, Colorado

Website
Company Profile


Monica Curiel's sculptural work is defined by a monochromatic language of rich textures and layers of abstract marks. Every Monica Curiel piece is, at its core, a celebration of her Mexican heritage and every sacrifice made in pursuit of a better life.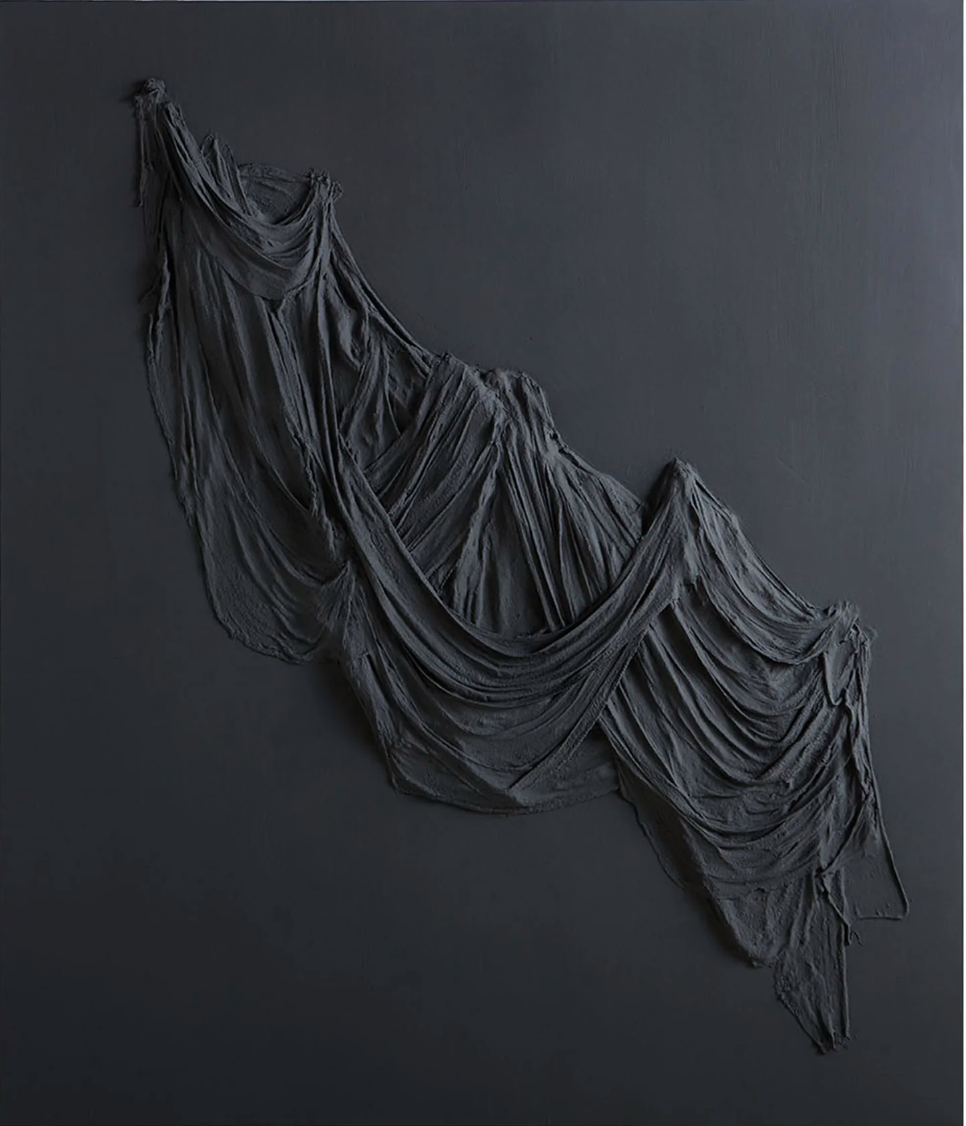 Ropa Mojada in black.
Photo: Courtesy Monica Curiel.
What makes you get up and design/create every morning?
I'm driven to create a more diverse narrative for people of color in both the art and design industries. For me, that narrative is the story of my parents, their sacrifice, and their shared ambition to achieve The American Dream. I have had opportunities because of their sacrifices, and it's important for me to know that I am paying it forward for generations to come. Bridging the gap between luxury art and design and communities of color is what fuels my practice. Each time one of my pieces is placed in a space where a Mexican immigrant would stereotypically only be found cleaning or gardening, that reflects The American Dream.
The second driving force is my need to create. I struggle with depression and creating has helped me cope with my experience and navigate my purpose. For me, creating is like a need to do physical activity, it's a healthy and necessary action that is integrated into my daily life.
What is your spirit material?
Plaster, hands down. I find the material beautifully bridges the world of fine art and the labor industry. Plaster comes in various forms and functionalities which, as a result, has allowed me to expand my practice from once only creating sculptural paintings to now creating functional objects and furniture.
Is it the problem or the solution that fuels your design/creative practice?
A little bit of both. Diversity, and the lack thereof, in the art and design industry is often overlooked. I want to contribute to changing both the narrative and the representation of the Mexican American community within the luxury market. I often face discrimination because I am a woman of color whose culture is derivative of the immigrant experience. Within my own community, classism and race also play a huge role in how one is perceived and welcomed. Through my work, I want to elevate and represent the communities which I come from, Mexican immigrants and labor workers, who were not given the opportunity to access higher education. The solution is to be a representative of my community, showcase my culture in the luxury space, and be an active, integral player in the art and design industries.

A designer you always return to for inspiration?
My ultimate goal is to create an entire home made of construction materials that play off of one another and share the same story. Frank Lloyd Wright did this with his home design by creating furniture, light, and objects to match the exterior. I want to do the same, but with a palette that speaks to my experiences as a Mexican American woman. I want to leave something behind that pushes the boundaries of what I grew up thinking I had permission to do. I want to be an inspiration for women to do more than I ever could.
Work in progress.
Photo: Courtesy Monica Curiel.
What keeps you in the game / focused mentally?
A key aspect of my story is that I am a two-time cancer survivor. There is a strong sense of urgency and creativity driving me because I understand that each day is a gift. It is the reason why I will often dream up a chair in the morning and have a working prototype of it done the next day. My work is highly personal but also aspires to capture universal experiences. Knowing that my experience and influence on this earth are limited, I am driven to make an impact beyond myself. This sounds morbid, but I often think about what I can leave behind after I have passed, how I want to be remembered, what my carbon footprint is, and what I did to further my community. I am a deep thinker. It's hard for me to think about things on a surface level, I like to dissect their meaning and reason for being. I believe this curiosity to think deeply about things also attributes to what keeps me focused. Why I make something is just as important as what is made.


With your work, what do you think you're contributing to?
My work contributes to a greater representation of my people, who are not often seen in the art and design industries. Growing up, it was evident there were those who inherited their education, wealth, and opportunities and those who had to work to achieve those things. Like many immigrant children, I grew up accompanying my parents at work, splitting my time between construction sites with my father, and assisting my mother in cleaning homes. These experiences were formative, they taught me how one is perceived based on work or class. At the time, I didn't feel good enough and thought my place in society was permanently defined based on where I came from. Now I celebrate my inheritance of dual cultures to elevate my story and progress future generations.

Why is representing artists and designers important to you?
I did not see that representation for myself growing up. I, like so many, spent a great deal of my adolescence wishing I had more Caucasian features: colored eyes, lighter hair, and a slimmer nose. I remember watching Telenovelas with my mother and my aunts, recognizing that the women who shared my features—olive skin, dark eyes, dark hair—played servants or secondary characters. This was also reinforced by the lack of diversity in the dolls and toys I used, and so on. If I can help represent women of color in spaces that have historically been a place where white men controlled the narrative, I can help create a greater sense of belonging and community.
Photos: Courtesy Monica Curiel.