Pitch Perfect: Jennifer Dowd, Creative Storyteller.
By Hello Human.
Introducing
Jennifer Dowd, Creative Storyteller.

Location
Los Angeles.
Find me on
Clients & Collaborators

Kelly Wearstler, Proper Hotels, MasterClass, Vogue Living, Perrier-Jouet, Viceroy Hotels, Farrow + Ball, DeGournay, Champagne Pommery and more.

In "Pitch Perfect" we tap Hello Human's publicity pros and the PR experts we admire to share 5 practical PR tips, useful insights and experiences they've learned on the job, so small businesses can start implementing them today.
One piece of advice for a small business starting out with their own PR.
It all starts with the brand story. An authentic, creative telling of who you are, what makes up your DNA. Once you determine what truly makes you unique, compelling, you can then master your own voice and point-of-view. Everything builds out from there. It is the absolute foundation for a successful PR campaign.
What's your latest big PR win and how did you get there?
Helming the PR for Kelly Wearstler for half-a-decade was dreamy. There were so many big wins over the years––between sizable design features and profiles in top shelter, luxury lifestyle and travel media, global events and collaborations with incredible brands and artists both in and out of the design industry. The key is versatility of story and finding the threads between what you are aiming to promote and the greater narrative. My personal favorite win and case in point, Kelly's MasterClass. Creating nuanced and layered content in collaboration with a culturally relevant medium not only allowed us to bring Kelly's POV, her brand, her life's work and many inspirations to life, it introduced her world to a whole new audience and exponentially diversified and expanded her business. And with the pursuant international media coverage, marketing opportunities and social media propulsion, it was a five-star study in PR success. The essential takeaway? We were meticulous in staying on-brand but open to connectivity outside of the expected channels.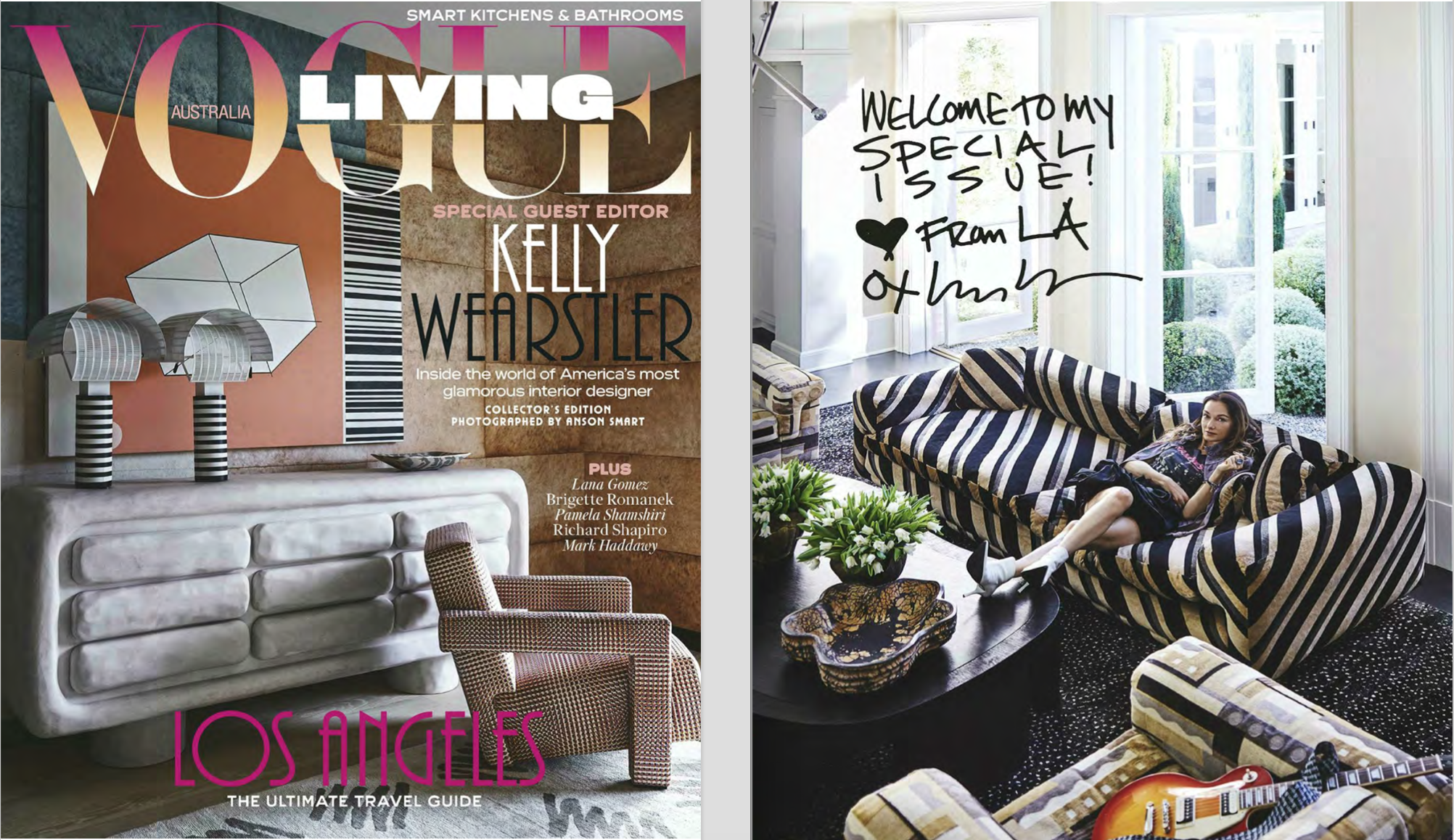 Jennifer served as contributing editor alongside Kelly Wearstler for a guest-edited edition of
Vogue Living Australia
that focused on art, design, interiors and fabulous Los Angeles. Cover image credit: Anson Smart.
Biggest PR pitfall...

Magical thinking! There's a definitive process in PR –– a forging of relationships, a showing-up to story, a curation of knowledge and research, precise presentation, creative dialogue, right place and right time….this is how you land media placements, collaborate with brands, and influence the desired space. Yes, there's a certain magic to it, but it is so much more than that. I've worked with clients who did not have an appreciation for the process and in turn held highly unrealistic expectations. When the process is understood, that's when the inherent value from PR is ultimately achieved.

Digital or print?

I worship at the ivied altar of the printed word and image.
Best advice for building relationships from scratch?

Be your best self at all times. Let your inner shine come through all of your communications and present only well-thought-out, above-the-hype correspondence and collateral. Authenticity. That's what resonates most with editors, writers, photographers and all of us, really. Keep elevating the vibrations.

Best advice for dealing with rejection.

Don't take it personally. Pure and simple. There are countless factors that steer decisions and you very likely aren't aware of or at the center of them all. When the stars align, then you'll get your win. Until then, keep on. It will be all the sweeter.