Tantuvi's new "Travertine" collection of rugs.
Photo: Charlotte Taylor & Victor Roussell.
Creative Humans: Meet Tantuvi.
By Hello Human.
Here at
The Humanist
, we're jazzed about introducing you to Tantuvi, the New York-based rug and textile studio that produces heirloom pieces made by seventh generation dhurrie weavers of North India. Tantuvi is a sustainable design business offering the global marketplace great design made possible through community engagement and economic empowerment.
We support Tantuvi for its sustainable, fair and equitable working environment where weavers are celebrated and treated with respect for their essential role in the business.
We also love Tantuvi for its ultra chic, cool-kid aesthetics, made in traditional techniques of hand-spun, dyed, and woven cottons and silks of the Eastern Ghats and Rajasthan. Check out
Circles
and
Rose Malachite
as witness. Founder Arati Rao is also a radical designer; she started this company, after years in corporate fashion design, to shift the paradigm of collecting design and elevate the value of Indian artisans in the consumer consciousness. Central to the ethos of Tantuvi is also to connect and empower a community wherein Rao has roots.
Recently we linked up to announce the launch of "Travertine," a new collection of rugs made from cotton and recycled silk inspired by Rao's travels in collaboration with her partner, the artist Adam Sipe. The color palettes take from the desert landscape and the dramatic beauty of alpine mountains. Modern luxury meets craftsmanship of hand-woven tradition.
Arati Rao, Tantuvi's Founder & Creative Director.
Photo: Ori Harpaz.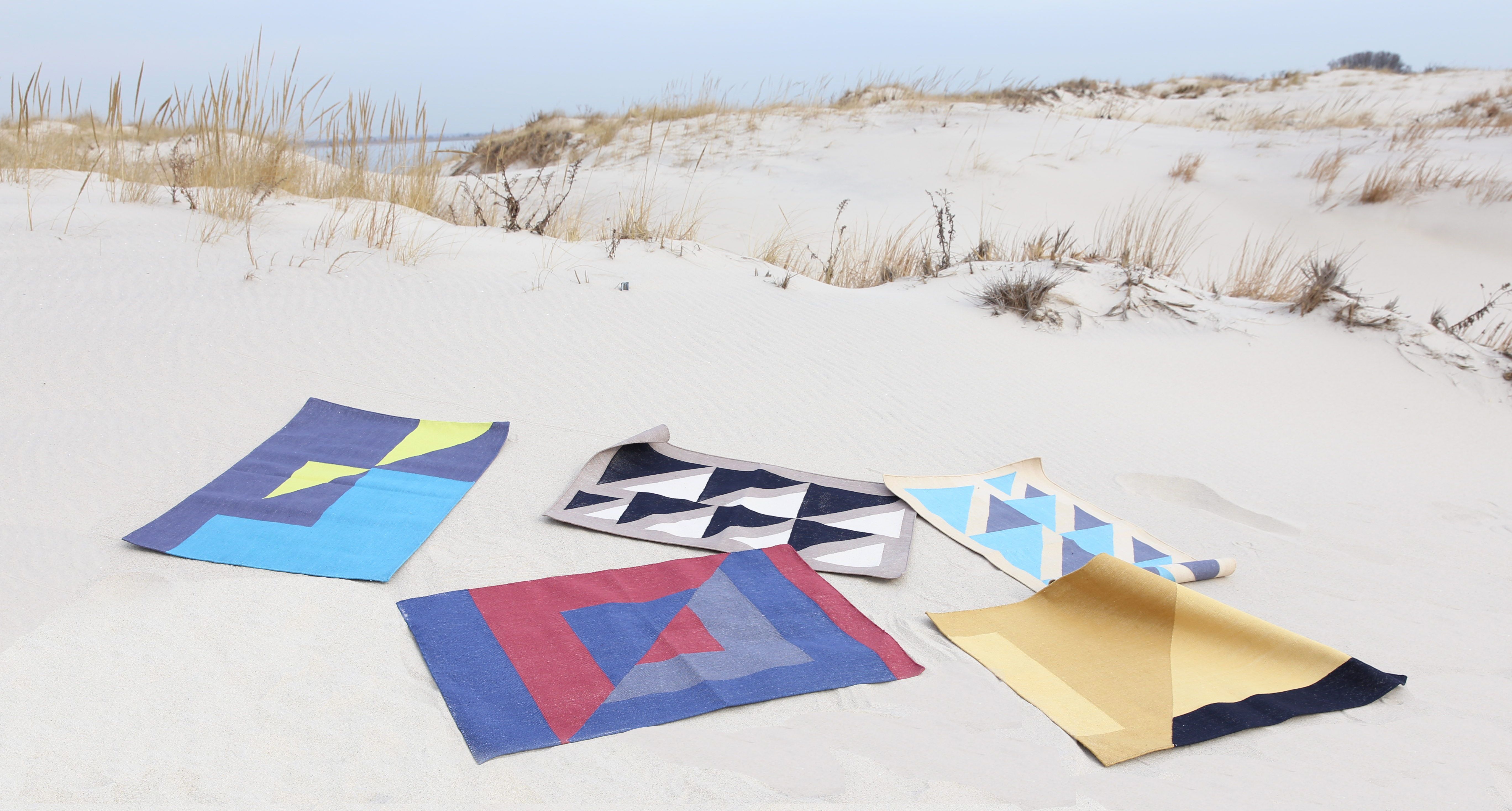 An assortment of Tantuvi rugs.
Photo: Courtesy of Tantuvi.
Name
Tantuvi

Company Founded
2010-2012.
It's tricky to specify exactly.
In 2010, I spent the year in India working towards what would eventually become Tantuvi.
Location
New York
Website
Company Profile

Tantuvi, reimagining what hand-made in India can be, while creating contemporary heirlooms for your space. Our work is produced using India's vibrant heritage techniques. We design our rugs with an artistic and thoughtful approach to build meaningful relationships.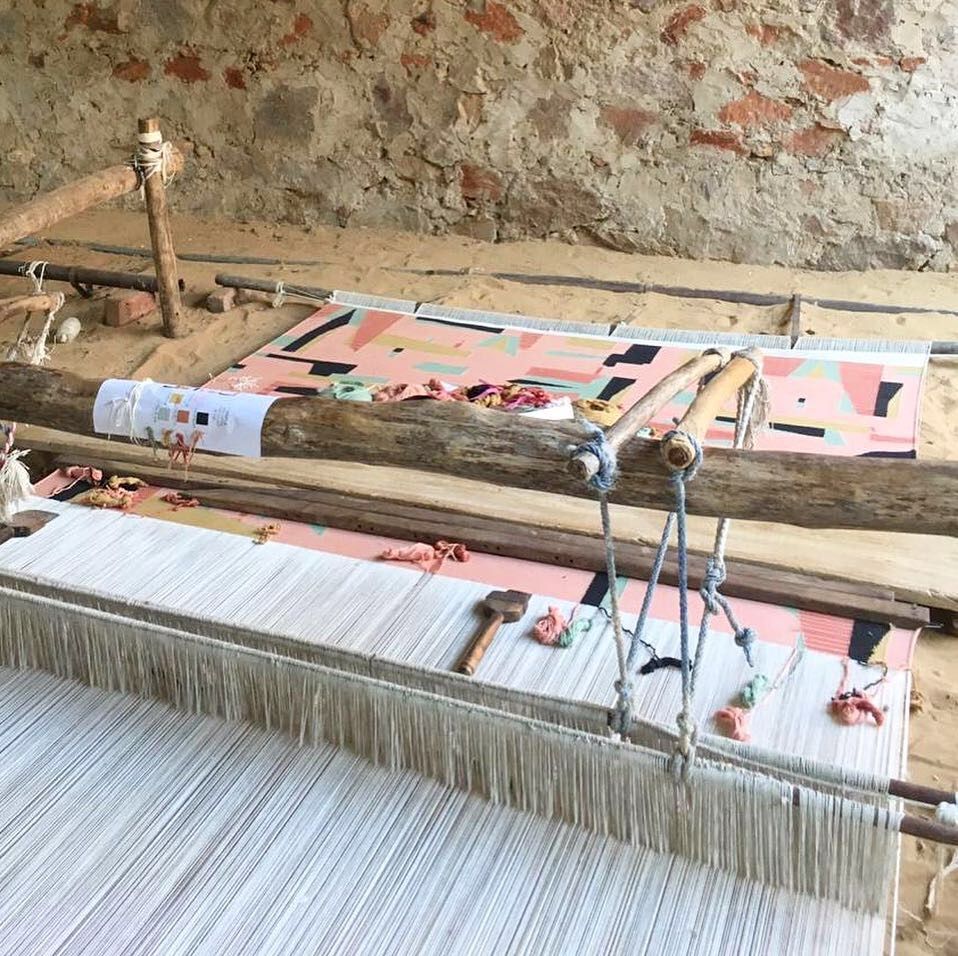 Tantuvi's Fragments rug on the Panja loom. Photo: Courtesy of Tantuvi.
What makes you get up and design every morning?
I wish I was designing every morning! Sadly, it's weekly, if that. My day-to-day at the moment is working on special projects and working with our production team in India. There is a lot going on at the moment, so we are planning for future changes that impact our artisans that will allow us to better serve that community.

Is it the problem or the solution that fuels your design practice?
I think both. It depends on what I am working on. You can approach the project or design process either way.
What's your spirit material?
Marble and raw silk

A design/art/architecture project that you always return to for inspiration?
Jantar Mantar in Jaipur that was built between 1724 and 1730. It never gets old!

Three words that describe your practice
Considered, Patient, Playful

What does the future of design look like to you?
I think there has already been a bit of a shift, but myself and the design community at large will have to be more considerate of materials and the impact of our work within the communities we produce in. I'm also thinking about what effects our ideas and work will have on the environment and people as well.

How do you use design for good?
All our rugs and textiles are hand-woven. Our process from procurement to weaving is hand-done. On top of that, there also are no wasted materials in this process. In addition to how Tantuvi operates, we also have a village fund to further support community projects within the weaving villages we work in that produce our rugs.
Inside the office of the Master Dyer who Tantuvi works with.
Photo: Courtesy of Tantuvi.