Creative Humans: Say hello to Studio ANANSI.
By Caitlin Shannon at Hello Human.

Here at
The Humanist
, we couldn't wait to share
Studio ANANSI
with you, the design practice of Toronto-born designer and artist, Evan Jerry. We're here to tell you Studio ANANSI's story, but his practice and objects seek to tell us a deeper story. It all starts with the name — Anansi, a prominent character of West African and Caribbean folklore who is considered a 'god of all knowledge of stories'. Inspired by these folklores and his heritage, Jerry's collections explore the present and the future of Black culture and craftsmanship.
We're big fans of Studio ANANSI's objects for the new narratives, characters and processes that they bring to wood. For Jerry's debut collection, he sourced materials that originated from Africa, hand sculpted each piece and finished them with either a dyeing or burning technique. Jerry transforms wood into monolithic form, giving it new meaning while retaining the ancestry of the material.
It's no surprise to us that Studio ANANSI's design narrative doesn't stop at the final product. We couldn't agree more with Jerry that the future of design is a world where designers have a responsibility to create positive environmental, cultural and social change, from the conception of a piece to the traces it leaves behind. This is evident in Studio ANANSI's commitment to "establish new and diverse narratives within our industry and to people responsibly".
Designer and artist, Evan Jerry, the founder of Studio ANANSI.
Studio ANANSI Omo Totem Vessel available at Love House NYC.
Name
Studio ANANSI

Company Founded
2018
Location
London, UK
Website
Company Profile

Studio ANANSI is devoted to exploring new narratives of African and it's diaspora cultures and heritages through a contemporary design expression.

Practicing a process of exploration, experimentation and research, objects are realized that emulate a sculptural, architectural and at times primitive approach.
Studio ANANSI Carve Travertine Cocktail Table for CB2.
What makes you get up and design every morning?
Storytelling is the core of Studio ANANSI. It was the underrepresentation of alternative narratives within the design industry that compelled me to start this journey.

As a black designer, I failed to see many projects that were imaged by black creators or designs that projected a considerate, empathetic and forward thinking approach to our perspectives, traditions, values, history and aesthetics. I hope to share the beauty and diversity of our many costumes through a meaningful, rooted yet progressive, preservation of black culture through each project.

Is it the problem or the solution that fuels your design practice?
Studio ANANSI's initial design process is grounded in research through the study of historical traditions, intentions and artifacts which inform a back and forth exploration of material and form to create objects that encourage current and future dialogues. I remain concerned with both the problem and a solution throughout this process, though one may become more of a focus to the other during different phases.
What's your spirit material?
Definitely wood. The natural characteristics of each species of wood is unique and I love experimenting and working with the material's grain, textures and tones. With collection one, it was important to use primarily woods that have origins in Africa as the collection represents a continuous progression of African craft and expression.

The woods go through a rigorous transformation process from natural dyeing, hand gauging and burning to achieve their unique final tones and surfaces.

A design/art/architecture project that you always return to for inspiration?
There is no one project that I constantly return to, but the art and objects created throughout Africa are continuously a source of inspirational reference because of their rich traditions, customs and spiritual beliefs. From the Bamileke peoples of Cameroon to the Baule peoples of the Ivory Coast, each country and ethnic group present incredibly unique values, aesthetic beauty and craftsmanship. My inspiration resource is always evolving.

Three words that describe your practice
Experimental, conscious, inclusive.

What does the future of design look like to you?
The future of design is one that needs to be more responsible for the entire experience of an object or project. It is vital for our industry to consider the lifecycle of an object from conception to deterioration on all accounts, from environmental to social, in order to progress forward with purpose to exist. It remains the design industry's responsibility to set prescenents to our relationship to design and it is mandatory that we now collectively reevaluate the current unsustainable state of obsession with 'what's-new' and the impacts of mass consumption.
How do you use design for good?
Design continues to have accessibility problems that are manifested in many ways throughout our industry. As a designer and an artist the design process for me always begins with intent. Whose stories are being told? Who has access to these objects? Can people connect to these objects without the ability to possess them? These are examples of the many questions brought forward throughout the design process so that the studio maintains its commitment to establish new and diverse narratives within our industry and to people responsibly.

The intention is to create objects that are mindful and have a sense of purpose. Objects that have integral value and meaning regardless of the social hierarchical positioning it adapts to so that a marginalized group of people can have access in spaces they may have not seen themselves included in before.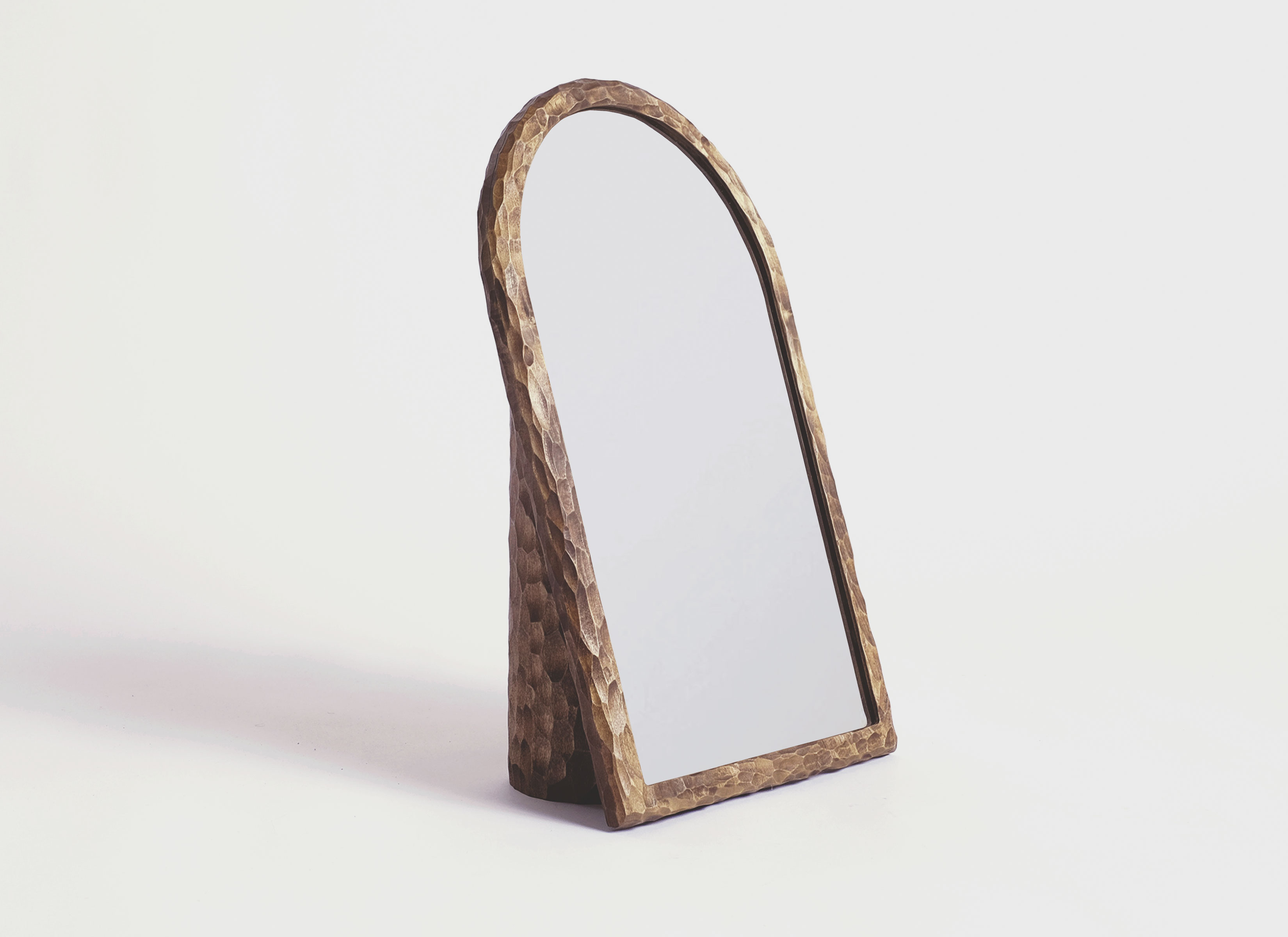 Studio ANANSI's
Chisel Mirror.